Berkelmans Welding would like to introduce the 4600 kg trailer with gooseneck hitch.
This trailer features a Dexter US made 5200 lb. per axle load rating, with electric brakes on both axles. 15" – 8 ply tires are mounted on galvanized 6 bolt rims.
Our trailers use LED sealed beam lights and all wire connections are soldered with heat shrink tube.
This particular trailer has a hydraulic retractable roller assembly, designed to load and unload portable storage buildings to worksites or home owners.
This gooseneck trailer also includes a 8000 lb Superwinch to assist with load & unload of storage bins and etc.
This trailer has a 24 foot deck plus a 20" beaver tail, and is 101" wide.
The hydraulic pump comes with a 4 button remote, which controls the hydraulic lift, and the rollers.
Remote comes with 20 feet of cable.
Trailer weight is 3600 lb.
The trailer has a 10,000 lb lift capacity and a 10 degree tilt angle.
With proper loading techniques, load capacities between 7,000 and 8,000 lbs are possible.
This trailer can be built for up to a 30,000 lb load rating, and is available with a bumper hitch.
With a G license, the maximum weight allowance on the trailer axles is 4600 kg, or 10,120 lbs.
Notice the tight turning radius achievable with a gooseneck or fifth wheel trailer hitch.
You can turn 90 degrees to the truck compared to approximately 60 degrees with a bumper hitch trailer.
Gooseneck trailers also distribute your carrying weight over the truck better than the bumper hitch.
An annual inspection is required on all trucks and trailers with a combined weight over 4600 kg.

Amerideck™ Loading System
Berkelmans Welding and Manufacturing Inc. Is the new official Ontario dealer for
Amerideck™ Loading Systems
COMMERCIAL GRADE
The AmeriDeck™ provides truck owners with a safe and efficient method for loading and unloading equipment and materials. Gone are the days of ramps and back aches. With multiple detachable and interchangeable decks, now you can load, haul, dump and unload equipment and materials with ease.
Superdeck™
Whether loading or off-loading, at ground-level, on a loading dock, or at a construction site, Amerideck's truck loading system, the SuperDeck, can handle any of your hauling tasks.
With the SuperDeck option, items ranging from tools to landscape equipment can easily be picked-up and delivered. As safety and efficiency are also a priority, we have implemented ways to avoid injuries using less manpower than traditional methods of transporting equipment. Our SuperDeck model assures the safe delivery of your product with our security features, such as tie down points and body locks.Serving multiple purposes in commercial and industrial settings, the SuperDeck is a fine alternative to any utility trailer. It's ability to load and unload items from ground level increases efficiency and speed. The SuperDeck, has proven to be a valuable asset for many industries that deliver tools, equipment, and general cargo on a regular basis. Read what customers have to say about SuperDeck.
The Super Deck III™ is a versatile loading platform that will allow you to maximize your in-box transportation options. At almost five feet wide and eight feet long this secure loading space, made of high quality powder coated diamond plate steel, provides you with a lot of space to take care of whatever job is at hand. Powered by the AmeriDeck™ hydraulic loading system, the SuperDeck III™ is a great alternative to trailers, lift gates or winch based loading systems.
Does your business haul equipment on a regular basis with full sized pick-up trucks? if so, the SuperDeck III™ can multiply the efficiency of your trucks, whether you have one truck or twenty we have a solution that works for you. Whether you are in the construction, landscaping, rental equipment or delivery business, AmeriDeck™ has proven successful for progressive businesses that want to grow while still being cost conscious and safety minded.
Are you an avid power sports rider? If so, get ready for the recreational activity of your choice! Whether it's riding a dirt bike or quad, a motorcycle or trike, load your equipment right into the bed of your truck with just the push of a button. No more wasting time loading and unloading equipment and gear into your truck safely. With the SuperDeck III™, any activity involving your recreational vehicle is bound to become more enjoyable.
The SuperDeck XL allows you and a friend to safely load your machines with ease so you can travel to your destination and let the fun begin!If you are looking for transportation equipment that is sure to make all of your truck hauling and loading tasks easier, then the SuperDeck XL is the power deck for you. Shipped with a complete pair of four inch extensions, which mount to each side of the truck; the deck will arrive at a complete width up to 102″. Overall, the deck surface measures 100″ wide and an upgrade to Greenwood Products XL Panels makes it a top-quality product with excellent reliability. A collapsible rear section allows for an approximate 30 degree load angle, while a durable ladder-like rail structure replaces the old expanded metal surface. A lighter rear section makes one person operation more manageable.
The ChoreMaster quickly transforms any full size pick-up truck into a versatile multi-purpose 3-in-1 utility vehicle. The ChoreMaster is a cargo loading system that loads up to 2,500 lbs. from ground level into the truck cargo box with the touch of a button. A dump body with over 40 cubic feet of capacity, the ChoreMaster is ideal for hauling loose material such as mulch, soil, and stone, etc. The ChoreMaster container is easily detached from the truck mounted lifting arm, for use as a "drop and leave refuse container". The ultimate solution to increased versatility and truck utilization: the ChoreMaster from AmeriDeck™.
Motorcycle Towing Trailer – Amerideck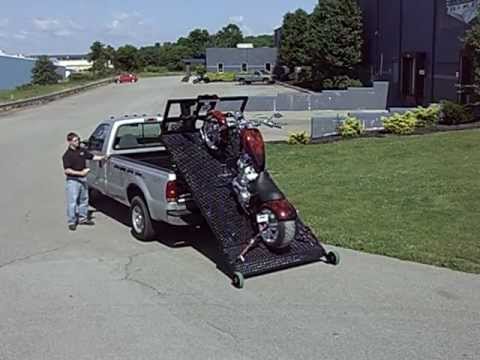 Bereklmans Welding & Manufacturing – Lawn Equipment Trailers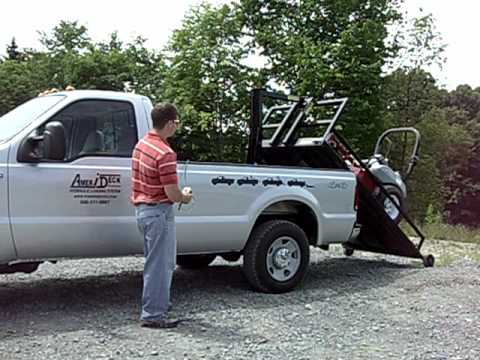 Pages
Berkelmans Welding & Manufacturing